PRINTS
QUARTET
.
This portfolio of four lithographs, 18 x 18 inches each, with hand leafed works by Serena Bocchino is inspired by her visual interpretations of American jazz music including that of the most creative Saxophonist in America, James Carter.
This portfolio includes a CD signed by both artists.
Published by Greg Smith, Exhibit A Fine Art and Editions
and completed with the assistance of:
Kim Michalak
Sandra Sewing Getz
Lily Zhang
The QUARTET project consists of 20 sets (4 prints per set) of Numbered Impressions
5 Artist Proofs, 3 Printers Proofs, and 1 BAT
The portfolio box for QUARTET is a black linen two-sided box produced by PORTFOLIOBOX, Warren, Rhode Island
This project will be released at POP AUSTIN International Art Fair, October 17-19, 2014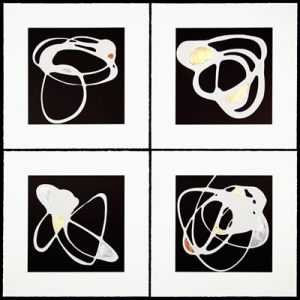 ---
.
Edition of 20 Monoprints exhibited in the
NEW PRINTS/2014 SUMMER exhibition
.
International Print Center of New York
and at Christies, New York, Summer 2014.
.
The print was created at the Printmaking Center of New Jersey,
Printing Assistant, Jenn Consoli
Monoprinting allows for the creative spontaneity that is essential to my work. In Rush Crush Rush, I utilized a variety of materials (silkscreen, drawing with graphite and charcoal and guilding using gold, silver and copper leaf) to create a composition that moves. The drawing elements are juxtaposed to the silkscreened image producing a contrast that activates the two dimensional plane. The guilded leaf creates an additional spatial dynamic in contrast to the natural wood surface. The combination of these visual elements maintain the characteristics intrinsic to visual abstraction as it relates to musical form.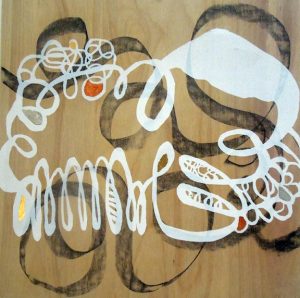 ---
.
The Brodsky Center for Innovative Print and Paper
Project: Simpatico
Over the past fifteen years, composed sound and the spiritual aspects of music have inspired my work. These forms of inspiration have been transcribed into and abstract visual language. This abstract language is a universal language.
The way music can fill a room and make us feel or even to imagine something is a phenomenon. Similarly, painting, using line, form, color, and texture, to activate the two dimensional plane and provoke and relate ideas is also a phenomenon. Abstraction goes beyond an image and the preconceived notions of things, it is not limited to a language or a culture; abstraction is a means for which I may communicate with everyone.
Simpatico is the title for this print. Is is created after an oil and enamel painting from the Romance Series. The print is composed of a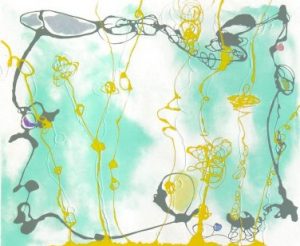 litho plate, silkscreen plates, pochoir and blind embossing. For the litho plate I "painted" with a black powder substance seeking to achieve an atmospheric ethereal image similar to a charcoal drawing. The silkscreen plates were created from photographing lines created from poured enamel paint. The pochoir (hand colored stencil painting) was skillfully and carefully produced using silkscreen inks to simulate oil paint, which is identifiable to my work. The embossing utilized bent wire, a material that I love to use due to the line quality and its pliable nature.
Experiencing printmaking for the first time has broadened my understanding of the printmaking process. Collaborating for the first time on a work was an interesting experience. The Master Printer, Eileen Foti, whom I worked with, was an invaluable resource. Her expertise and knowledge was immeasurable. Ms. Foti, being an accomplished artist herself, was able to graciously allow for the improvisational methodology of the creative process.
Special thanks to Eileen Foti, Lynne Allen and Judith Brodsky at the Brodsky Center for Innovative Print and Paper, who made the printmaking process a challenging and exciting experience.
Also, special thanks to Greg Smith from Exhibit A in SoHo, for his generosity and support.
Bocchino's print Simpatico will participate and be on exhibit at the following venues:
– Trenton State Museum, Trenton, NJ
– The Morris Museum, Morristown, NJ
– The Noyes Museum, Oceanville, NJ
– Drasdale Galleries, Bridgeport, CT
– The Print Center, Philadelphia, PA
– Pennsylvania State University Galleries, State College, PA
– Corcoran Gallery and School, Washington, DC
– Lamar Dodd School of Art, University of Georgia, Athens, GA
– Arkansas State University Galleries, Jonesboro, AK
– University of Iowa Museum of Art, Iowa City, IA
– Purdue University Galleries, West Lafayette, Indiana, IN
– Tweed Museum, University of Minnesota, Duluth, MN
– Whitman College, Walla Walla, WA