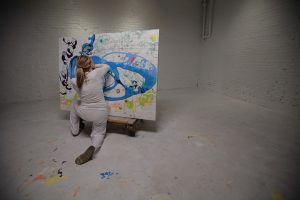 American artist, Serena Bocchino has been recognized by many art institutions for her work and is the
recipient of numerous awards including the Pollock-Krasner Foundation Grant, the PS 1/MOMA International Studio Residency, the Artists Space/Artists Grant, the Art Matters Grant, the Brodsky Center Printmaking Residency and the Basil Alkazzi Award, USA. The New Jersey State Council on the Arts has granted her Fellowships in both Painting and Drawing.
The Museum of Modern Art in New York featured Bocchino's paintings and process in a film documentary by Monica Scharf, which won most inspirational film in the New York Film Festival. From 1989-2013 Bocchino's work has been the subject of six films. Bocchino's exhibitions have received critical attention from The New York Times, The New Yorker, Artnews,
Art in America, Newsday the San Francisco Art Examiner, ArtCritical, On Verge magazine and the Star Ledger. In 2015, the first comprehensive monograph was released and authored by art historian, Lisa A. Banner, art writer/poet, Jonathan Goodman and Chinese Art Specialist, Lily Zhang. Kathleen Goncharov wrote the
Introduction.
Serena Bocchino is just back from an international exhibition at the Taoxichuan Art Museum of China Central Academy of Fine Arts (CAFA). The Museum has recently acquired two sculptures, one site-specific installation and one painting by Bocchino for their permanent collection. The Museo Italo Americano in San Francisco has also recently acquired a painting by Bocchino.
Public Art Collections that her work is included are:
Art in Embassies Program, Bergen Museum of Art and Science, Bronx Museum of the Arts, Fidelity
Investments, Islip Art Museum, Janssen Pharmaceuticals, Lotus Museum, Beijing China, McKinsey & Co.
Incorporated, Moelis International, Montclair Art Museum, Morris Museum, Newark Public Library, New
Jersey State Council on the Arts, Noyes Museum, Pfizer Inc, Price, Waterhouse and Coopers, Saks Fifth
Avenue, New York, NY, Smithsonian Museum, Irma and Bill Seitz Collection, Washington D.C., Springfield
Museum of Art, St. Louis Art Museum, The Prudential, The Brodsky Center, Rutgers University, Trenton State Museum, the Taoxichuan Art Museum of China Central Academy of Fine Arts and The Zimmerli Art Museum.
.
Bocchino has been chosen for a studio residency at the Eileen Kaminsky Family Foundation (ESKFF) located at MANA Contemporary for the Fall 2017.
Opening event is Sunday October 15, 2017 1-6pm 2nd floor ESKFF
..